June 2013 Archive
Thursday, June 13, 2013
With a second tornado having deeply impacted the people living in Oklahoma and a hurricane season just winding up, natural disasters are front of mind for many people and their families and loved ones. With high winds that carry destructive power, tornadoes can demolish homes, and lives along their path. With over 1,000 tornadoes a year in the U.S., causing up to $1.1 billion in property damage, primarily roofs, trees, and windows.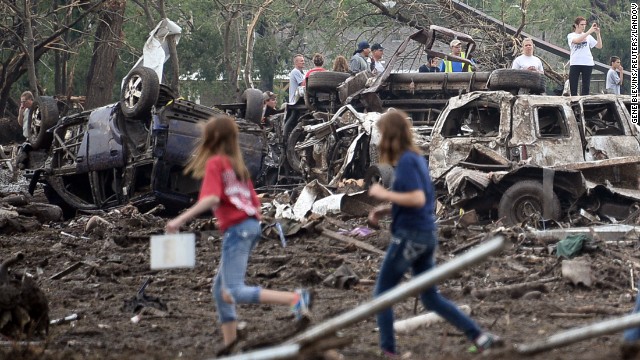 Have a "Safe Room" - Taking precautions is critical and one of the best ways that those who reside in tornado-prone areas can prepare is to have a place of "near-absolute protection," a term used by the Federal Emergency Management Agency (FEMA). While every tornado is different, based on collective research, a safe room design (oftentimes a basement or interior room) that incorporates protection criteria can be a tremendous safeguard during a storm. For more information on safe room design, visit FEMA's website.
Prepare Your Landscape - Keeping windows clear by trimming tree branches and shrubbery, or removing trees that could fall on your home, and replace any hard, rocky surfaces in your walkway or driveway with mulch. Make sure that windows are closed when a storm is coming to minimize any potential flying debris.
Set up a "Storm Plan" - Prevention can make a big difference when a tornado hits. Talk with your family about your escape route if you are trapped in your home and where you will take shelter and put together a plan. Options may include a designated community shelter, a storm cellar, or a "safe room." Another important step is to have a contact person who can reach out to loved ones in case a storm comes.
Assemble an Emergency Kit - Having an emergency kit with first aid supplies, flashlights, heavy-duty gloves, a whistle or air horn, extra copies of keys and glasses, cash, portable all-hazard radio, fresh batteries, and copies of insurance documents.
Update Your Insurance Policies - Allstate homeowners insurance and renters insurance can go a long way to help protect your home and belongings against damage from natural disasters, and more importantly, help you to clean up after the storm.
Call Salmon Agency to discuss your insurance needs, so we can come up with the best solution for you and your family, so that you will be prepared for the storm. To give to the victims of the recent tornadoes in Oklahoma, visit the American Red Cross website and make a difference today!
News / Blog Home
Categories
Automobile Insurance
,
Company News
,
Disaster Coverage
,
General
,
Holidays
,
In the Community
,
Life Insurance
,
Savings
Archives
February 2018
December 2017
November 2017
April 2014
March 2014
November 2013
October 2013
August 2013
July 2013
June 2013
All Archives
News / Blog RSS Feed
Tweets by @SalmonAgency